We strive to be pioneers and thus leaders, in our spatial science profession. Our team consists of skilled and qualified professionals with many years of experience.
We utilise the latest technology to service all projects large or small and continually research new solutions to achieve the highest quality results.
Below are the programs, software and devices that we use to deliver the highest quality results to our clients.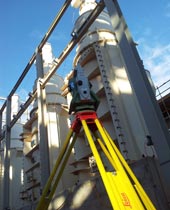 Total Stations
Land Surveys conventional survey instruments, consists of either Leica TS15 series or TCRA 1200 total stations. All total stations are equipped with automatic target recognition; this ensures accuracy and elimination of human error in pointing. Total stations are calibrated on a regular basis using the calibration software installed on all Leica total stations. This includes calibrations for horizontal collimation, vertical index error, ATR (automatic target recognition) alignment.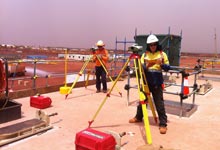 Digital Level
Land Surveys uses Leica DNA or Sprinter digital bar code reading levels for accuracy, and elimination of human error in staff reading. Digital automatic levels are regularly checked and adjusted for collimation error prior to any level traverse undertaken on a weekly basis if used regularly.
GPS
At the start and end of each day the GPS Rover is to be checked onto a fixed control point to determine positional difference in easting, northing, and RL.
Software
We use 12D Model surveying and engineering software for computations, transformations, uploading and downloading information from total stations, GPS and digital level, least squares adjustments of observations, importing and exporting digital information to and from other packages, modelling 3D surfaces and calculating volumes.
Briscad and Autocad is used for drafting and interrogations of DWG or DXF data received from clients.
ASCII point files can be extracted from all of Land surveys Software programs on request.
Unmanned Aerial Vehicles (UAV)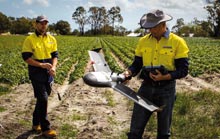 Land Surveys compliments its traditional surveying services with affordable, rapid response aerial surveying with UAVs, delivering orthorectified imagery and digital elevation models in all common CAD and GIS formats. Projects that have benefited from the the UAVs features include: Mining, Civil, Environmental, Exploration, Heritage, PR, and Agriculture. This technique also offers a safe and quick way to access inaccessible, dangerous areas, remotely and autonomously.
Land Surveys UAV operators are all qualified surveyors or photogrammetrists, making Land Surveys your one stop solution for project planning, ground control, image acquisition, processing and reporting.
3D Laser Scanning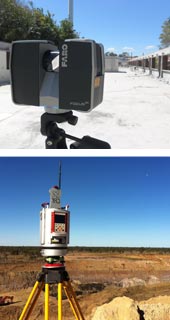 3D Laser Scanning is rapidly becoming the preferred survey method for measuring complex objects or structures. Scanning provides our clients with a fast, safe and cost effective alternative to traditional survey methods.
This technology is particularly beneficial when plans of an object or structure are not reliable or unavailable; the 3D laser scanning provides a rapid, accurate way to measure any object ranging in size from a few centimetres to hundreds of metres in size.
We utilise the latest high resolution terrestrial 3D laser scanners run by experienced field staff.
For mining projects, we use a Riegl laser scanner; it has exceptionally long range allowing surveyors to remain a safe distance from potentially hazardous areas such as pit walls.
For smaller scale projects, we use a Faro Focus 3D scanner. It is fast, very portable and produces full colour 3D scans.